Online Khabar, 2nd May 2017, Kathmandu
Nepal is finally beginning programmes of local level elections on Tuesday as the Election Commission is registering nominations from candidates for the first phase of polls scheduled for May 14.
Provinces 3, 4 and 6 will hold the elections for 283 rural municipalities and municipalities in 34 districts on May 14 while provinces 1, 2, 5 and 7 do so exactly a month later.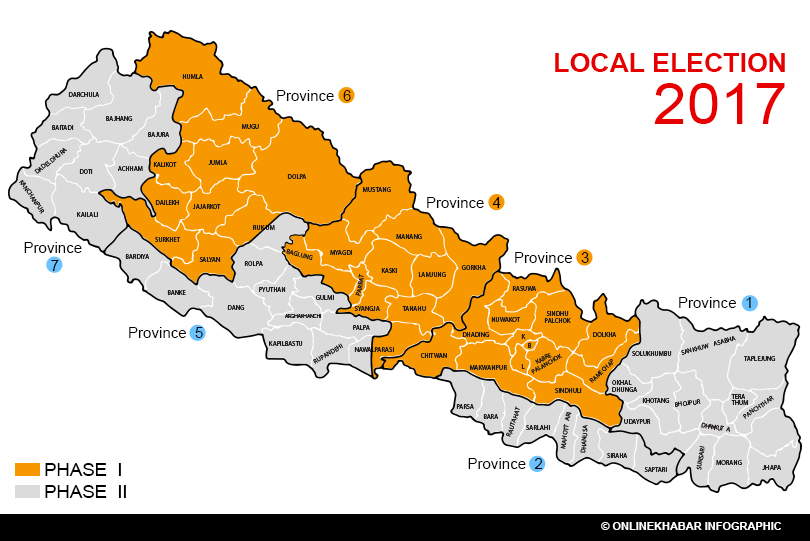 The elections have become almost certain as of now after the Madhesh-centric parties agitating with the demand of constitution amendment also agreed not to disrupt the polls.
One of two constituents of the Madheshi Morcha, Upendra Yadav-led Federal Socialist Forum-Nepal will participate in the elections whereas another constituent, Rastriya Janata Party Nepal, says it will not disrupt the polls though it will not take part until the constitution is amended.
It has been expected that the constitution will be amended by the second phase of elections to address the party's concerns.
Though a recent impeachment motion against Chief Justice Sushila Karki triggered divisions in the ruling alliance and the Rastriya Prajatantra Party pulled out of the government, the party says it is committed to the elections and it does not affect the polls.
Prime Minister and CPN-Maoist Centre Chairman Pushpa Kamal Dahal has also already clarified that the motion will not hamper the election programmes. Another ruling ally, Nepali Congress, seems eager to hold the polls as soon as possible as it wants to take over the government after the Phase-I elections.
As the main opposition, CPN-UML, had been demanding for the early elections for last few months, the party must have been happy now to join the election process.
It means all political parties are one to hold the elections in a fair and peaceful environment.
A fringe Maoist outfit, CPN Maoist led by Netra Bikram Chand 'Biplav', has carried out some activities against the polls. However, the party does not have much effect in most parts of the nation.