Maya Oppenheim, The Independent, 25 July 2018
Women living in Nepal are routinely banished to an outside hut or animal sheds, stopped from taking part in family activities, having contact with men and given less food to eat when they are on their periods due to an ancient practice that remains prevalent despite a ban.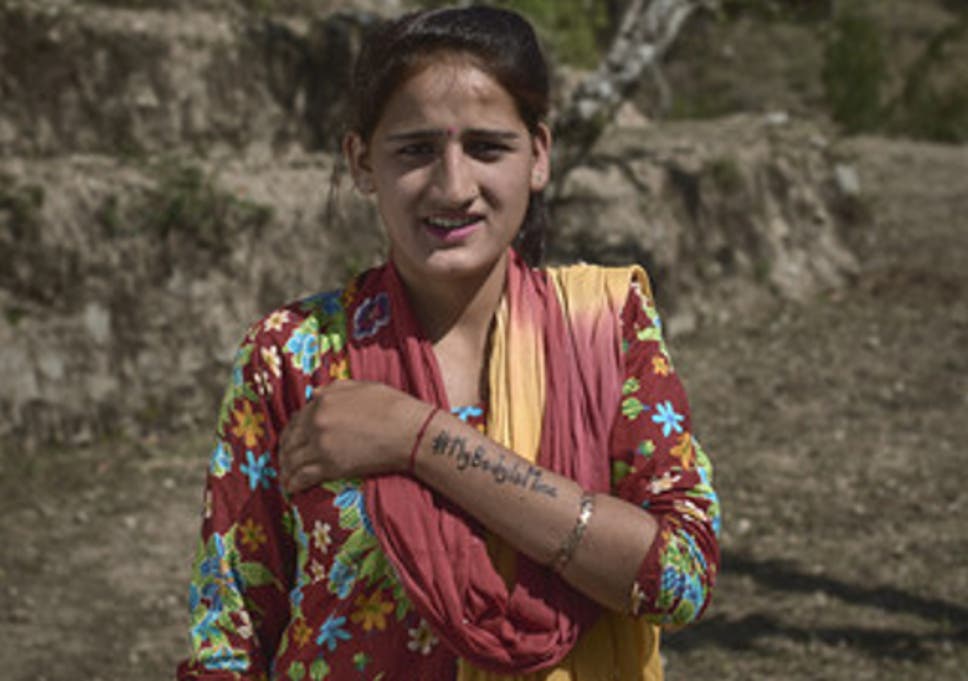 The Hindu custom of isolating women who are menstruating from the rest of the household because they are deemed "impure" – known as "chhaupadi" – was outlawed in 2005 but has remained prevalent in the parts of western Nepal.
Dozens of women and girls having died in Nepal, one of the poorest countries in Asia, in recent years as a result of the tradition, in spite of concerted campaigns by activists coupled with government measures to rid the area of the practice.
A 19-year-old girl died last year from a snakebite while sleeping in a shed during her period. In a similar case, a 15-year-old girl suffocated to death after lighting a fire to try and stay warm in her poorly ventilated hut.
Parbati, 17, told The Independent she was terrified when she got her first period at the age of 12 and felt like she should not tell anyone.
She finally told her sister-in-law and was separated from her family and forced to live in a "chhaugoth" – a hut separate from the house where women and girls are forced to live during their periods.
"At first, I felt really, really scared and I could not tell anybody, but later on I told my sister-in-law," she said. "Why are my family are treating me separately? I began to think like that but I also felt scared to say anything."
She later joined an adolescent girls group supported by international charity ActionAid where she was educated about sexual and reproductive rights. After telling her parents about the damaging aspects of chhaupadi, she was allowed to remain in the house.
"My parents were happy when I started sleeping inside the house because they also feel I am unsafe in the chhaugoth because a snake might bite me or another bad thing might happen," she said.
Durga, 30, also experienced anxiety about the custom, but from the perspective of a mother. She worries her 14-year-old daughter Ishu will be raped when she is moved to a mud hut outside their home for around five days every month.
Durga, who has been subjected to chhaupadi herself since the age of 14, said: "I am very scared when my daughter is out in the chhaugoth. I am scared that if some bad boy comes and rape her [sic].
She added: "I have to practice it because of the social pressure. If I didn't practice it, I would be alone in the community."
Rajkumari, a 23-year-old police constable in the Doti district of western Nepal who works with ActionAid to end the practice, said the scale of the problem was huge.
She has only managed to register one chhaupadi case in Doti district in the past four years.
"Some people think that it [chhaupadi] is good because they are obeying God but it is not a good culture. Even though we have tried to convince the local people, they have said: 'It is our culture, then who are you to come here and talk about our culture?'
"Previously girls were not allowed to go to school during their menstruation. But now girls are going to the school."
The practice of making women sleep outside despite temperatures in Nepal, sometimes falling below zero in winter, stems from concerns women will anger the gods or contaminate their home if they stay inside.
In rural areas, it is widely perceived that not following the practice will engender misfortune in the form of natural disasters or sickness or death among family members or livestock. Other myths include thinking that if a woman drinks milk while she is menstruating she will bring harm to her family.
While married women generally stay outside for only a few days, others can be banished for up to a week.
In November 2016, Dambara Upadhyay died alone after spending four nights outside. The 21-year-old was found by her sister-in-law with blood coming out of her nose. Despite local police suggesting she might have experienced a heart attack the initial post-mortem report was not able to establish a cause of death.
While other deaths have been attributed to wild animal attacks, the most common cause is smoke inhalation from fires lit in an attempt to stay warm.
A law passed last August that is set to go into effect next month will punish people who force women to follow the tradition.
The new legislation included a grace period to give citizens time to get used to it – with officials claiming overhauling archaic, culturally entrenched attitudes cannot happen overnight.
The law will result in violators facing up to three months in prison or a fine of 3,000 Nepalese rupees (£20).
But women in the country have said they need more legal support with many not yet aware of the new law.
"Cultural taboos around periods can mean many women and girls are forced to manage their periods in uncomfortable, unsanitary and ineffective ways. The extreme end of these stigmas, such as chauppadi, can literally end in death," Girish Menon, chief executive at ActionAid UK, told The Independent.
"The lack of access, knowledge and support can also lead to girls missing or dropping out of school. This puts girls at greater risk of child marriage and early pregnancy, meaning the cycles of poverty, gender inequality and violence against women become harder to break.
"Women have the right to control their own bodies. This is why we work to provide safe, and clean sanitary products, and work closely with local women activists to challenge harmful practices and social norms to ensure girls can claim their rights to their bodies and lives."
Source: https://www.independent.co.uk/news/world/asia/nepal-women-period-menstruation-banished-outside-huts-a8462106.html