The Himalayan Times, March 07, 2019
A study has shown that 26 per cent of married women living in Tarai districts are suffering uterine prolapse.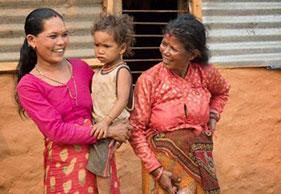 Uterine prolapse is a condition in which uterus slips out of the vagina. The condition occurs when the pelvic floor muscles and ligaments of women after giving the birth to children are overstretched and weakened and no longer provide enough support for the uterus.
The study was conducted by Healthy Nepal Community Foundation with support from the Indian embassy in Kathmandu. The research was conducted among 45,000 married women in nine various Tarai districts. The study also said that, 34,960 women who underwent check-ups had shown early signs of uterine prolapse.
According to Dr Sadikshya Giri, the research director project director of the research, uterine prolapse can avoided if certain precautions are taken. She said women should maintain two to three years gap between two consecutive births. Similarly, giving birth at young age, working vigorously during pregnancy, delivering kids from inexperienced midwives or doctors and lack of proper nutrition are the major causes of the problem.
Dr Giri said women from underprivileged families and marginalised communities were more vulnerable to the problem.
According to the foundation, it had also conducted a health camp, which benefited 10, 800 women. A total of 360 women suffering from uterine prolapse underwent surgery at the health camp conducted by HNCF.
Source: https://thehimalayantimes.com/kathmandu/26-pc-married-women-in-tarai-suffering-from-uterine-prolapse/