Ghanyshyam Khadka, The Kathmandu Post, August 3, 2022
The disasters, prompted by incessant overnight rains, have also displaced scores of households and damaged property.
Floods and landslides set off by heavy monsoon rains left at least seven dead and injured and displaced scores in various parts of the country on Tuesday.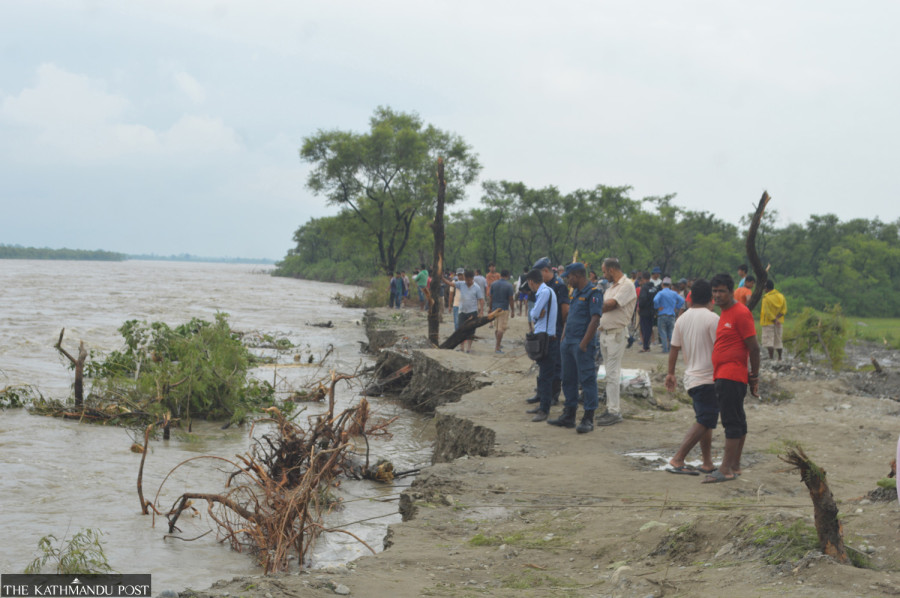 In Myagdi, five people died in a
Local villagers and police survey the damage caused by the Koshi River, which breached its banks at Dumribote in Udayapur on Tuesday.
landslide at Malika Rural Municipality-2. The landslide triggered by incessant rainfall occurred at around 4am on Tuesday at Ghanglepani in the rural municipality burying two houses and a cattle shed, according to the district police office.
Police identified Gham Bahadur BK, 37, his wife Ram Maya, 32, their sons Nabin, 17, Rajan, 14, and eight-year-old daughter as those killed in the incident. Gham Bahadur's uncle and aunt, Gothe BK and Gori, sustained injuries in the incident.
Sagar Panta, police inspector at Area Police Office in Darbang, said the injured who were being taken for treatment to Beni have been brought back to the Ruma-based health post as landslides have blocked the roads. Bad weather hampered helicopter rescue efforts, Panta said.
Meanwhile, in Kapilvastu, the flooded Koili stream in Banganga Municipality swept away a couple who were attempting to cross it on Tuesday, according to the Pipara-based Area Police Office. The couple—Dil Kumar Sunar, 36, and his wife, Ram Maya, 31—were returning home after collecting fodders in the local forest, said police. Locals rescued their 12-year-old son who was also being swept away along with his parents.
In the east, incessant rainfall in several hill districts caused the Saptakoshi, the country's largest river, to swell and erode embankments, leaving several settlements at high risk of flooding.
The Saptakoshi river has been eroding its western embankment in the Dumribote area of Belaka Municipality-8, Udayapur. Locals have started leaving the settlements fearing floods and inundation. The river's course has been shifting west for the past few years, putting the nearby settlements of Udayapur and Saptari districts at high risk.
Krishna Prasad Nepal, spokesperson at the Department of Water Resources and Irrigation, said that with water level rising in Saptakoshi, the floodwaters could overflow and enter the settlements. "Emergency preventive measures are underway to avert possible disasters," Nepal said.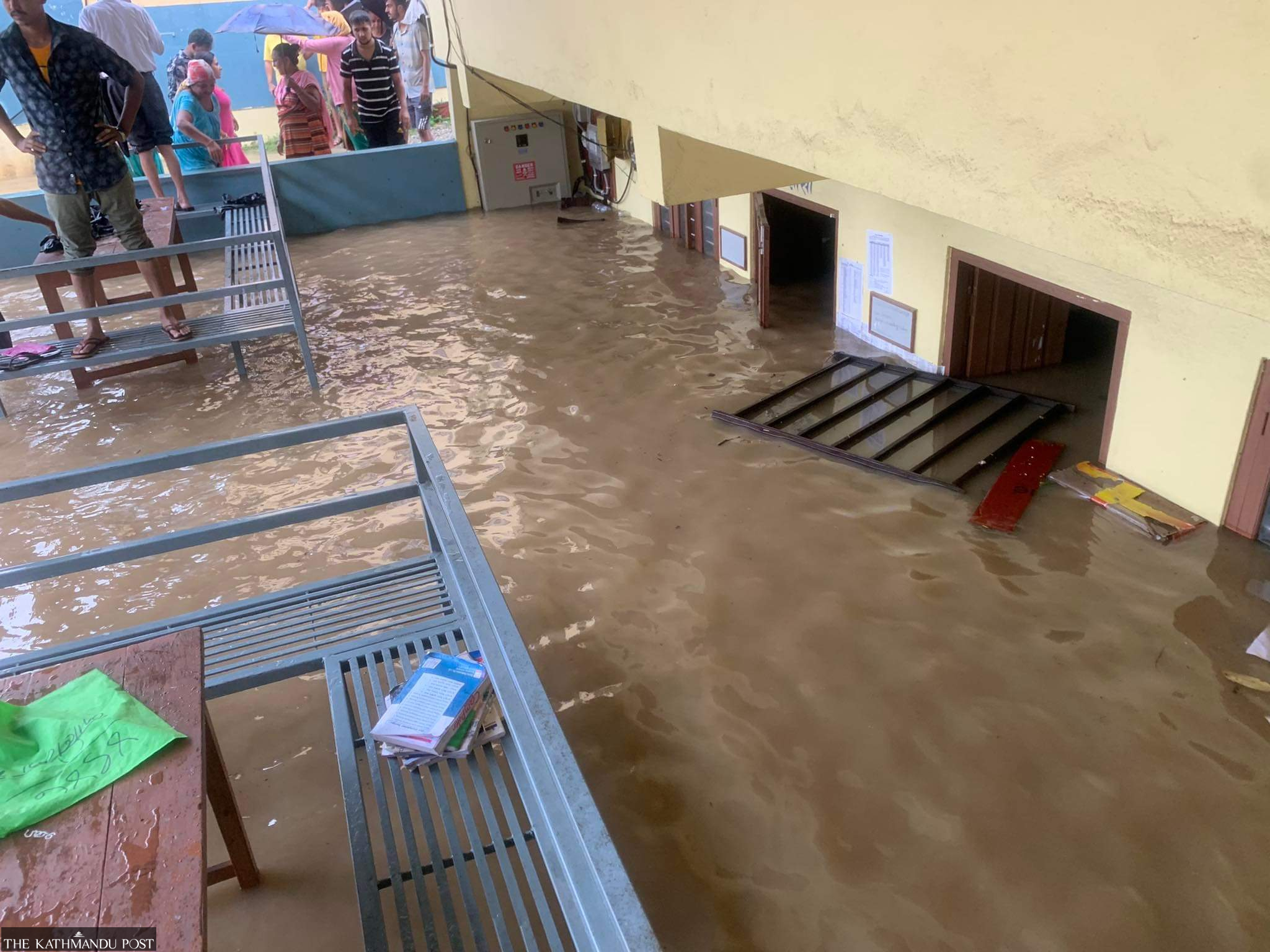 In Nawalparasi (East), two persons went missing in floods while around 200 houses were waterlogged. Narayan Sharma/TKP
More than 1,700 families in Belaka Municipality of Udayapur, and Saptakoshi and Kanchanrup municipalities of Saptari will be affected if the river enters the settlement through the Dumribote area.
Ashok Karki, mayor of Belaka Municipality, said there is a high risk of flooding if the erosion at Dumribote is not controlled immediately. "We have warned people to go to safer places," Karki said. "The local, provincial and federal governments have been working to control the floods and protect settlements."
Likewise, the district administration in Saptari has asked people living near the Saptakoshi river to stay on high alert until the rains abate. According to Superintendent of Police Abhinarayan Kafle, wards 13 and 14 of Hanumannagar Kankalini Municipality are at risk of floods.
Birendra Majhi, mayor of Hanumannagar Kankalini, said 20 houses at Gobargadha settlement in Ward No 13 were inundated after floods entered the village. Thirty-two of the 56 sluices of Koshi Barrage have been opened on Tuesday after water level rose in the river.
In Nawalparasi (East), two persons went missing in floods while around 200 houses were waterlogged. A three-year-old girl went missing after she was swept away by rain-swollen drainage in Gaindakot Municipality-1.
In Gaindakot's ward 10, the flooded Narayani river swept away a 21-year-old man whose body is yet to be recovered, said police. In ward 2, meanwhile, rainwater inundated around 200 houses and a community school.
Hari Sapkota, a resident of ward 2, said the waters have deluged food grains and belongings. "The locals who have one-storey houses are now taking shelter in the neighbours' houses," he said.
(With inputs from Dilliram Khatiwada in Udayapur, Abdhesh Kumar Jha in Saptari, Narayan Sharma in Nawalparasi.)
Source:
https://kathmandupost.com/national/2022/08/03/7-killed-in-floods-landslides-in-districts