Arjun Poudel, The Kathmandu Post, January 10
On December 17, French Prime Minister Jean Castex said that Omicron was spreading at a "lightning speed" in Europe.
Less than two weeks later, World Health Organization chief Tedros Adhanom Ghebreyesus said on December 29, "the combination of Delta and Omicron variants is driving a dangerous tsunami of Covid-19 cases".
The statements came just as the US and Europe reported massive surges in cases.
In India, doctors warned that a third coronavirus wave was inevitable. In Nepal, public health experts suggested that the entry of Omicron was a matter of when, not if.
Now, as the cases have started to rise, with 24 Omicron cases confirmed on Friday, there are concerns if the country could see an explosion of infections.
According to experts, the new coronavirus cases in Nepal could just be the tip of the iceberg, as many people have not undergone tests and the majority of cases are asymptomatic. Before authorities concerned take decisions on measures, the super contagious variant of the coronavirus could cause a mayhem, they have warned.
"We don't know the exact extent of the spread of the new variant of the virus," Dr Sher Bahadur Pun, chief of Clinical Research Unit at Sukraraj Tropical and Infectious Disease Hospital, told the Post. "If government officials' statements are anything to go by, the new variant has already penetrated the communities."
On Sunday 1,167 people tested positive for coronavirus—841 in 8,848 polymerase chain reaction tests and 326 in 3,784 antigen tests.
The daily test positivity rate jumped to 9.5 percent on Sunday from 3 percent a week ago (last Saturday).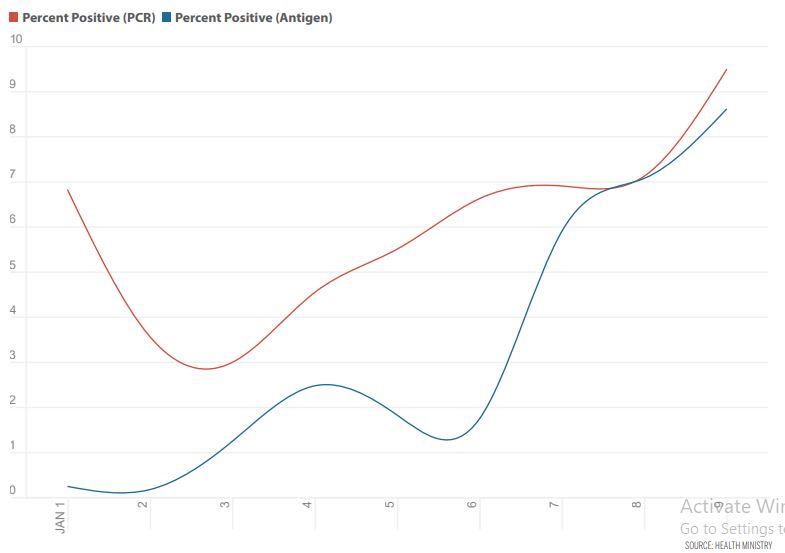 Post Graphics
A majority of the positive cases reported on Sunday are from the Valley—491 in Kathmandu, 99 in Lalitpur and 25 in Bhaktapur.
Amid the rise in cases, the Covid-19 Crisis Management Coordination Centre on Sunday decided to make a slew of recommendations including restrictions on gathering of more than 25 people and extension of school closure until January 29.
It has also recommended that vaccination cards be made mandatory for people to enter public places like offices, hotels, restaurants, cinema halls, stadiums, airports and parks. Members of the public must present their vaccination cards or their photos on their mobile phones, the recommendation says.
The recommendation on vaccination cards may look like a good move, but experts say the country has failed to give momentum to the vaccination drive despite having enough doses in stock. As of Sunday, just 36.7 percent of the total population, or 11,134,698 people, have been fully vaccinated.
Nepal so far has received 39,203,927 doses of vaccines—Vero Cell, AstraZeneca, Janssen, Moderna and Pfizer-BioNTech.
Estimates suggest there are still around 12 million doses in stock.
All the CCMCC recommendations are subject to approval from the ministries concerned.
Public health experts say Nepali authorities have once again demonstrated their reactive approach, just the way they did in the past when the pandemic hit the country. There was no focus on measures to curb the virus spread, according to them.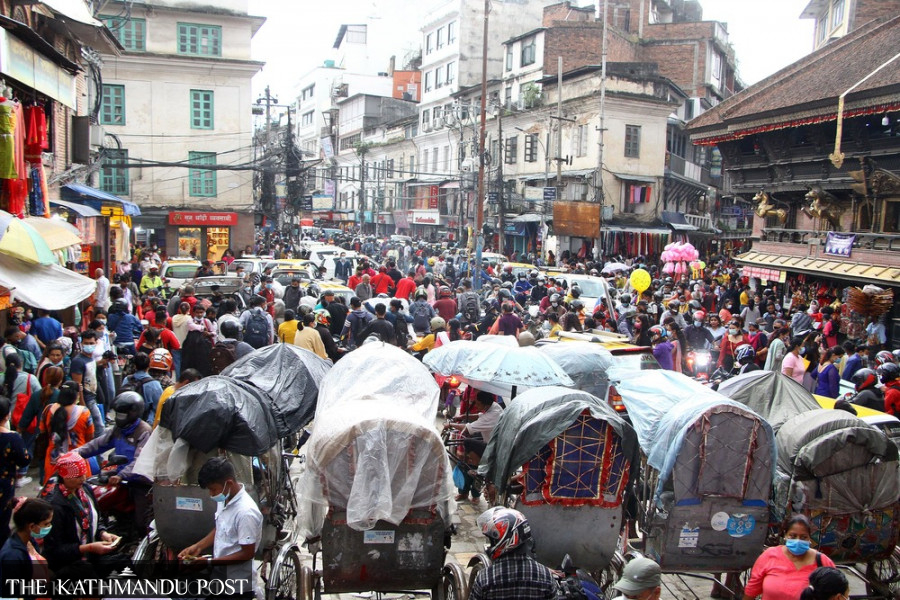 Post File Photo
Authorities decided to allow schools to run in-person classes, while crowds in public transportation increased and weddings and gatherings were being organised.
Nepal's political parties held their conventions with huge masses.
"I don't think much could be done now by restricting movements at borders and taking other preventive measures," Dr Prabhat Adhikari, an infectious disease and critical care expert, told the Post. "It's already too late to do all those things. It will be better if authorities concerned pay attention to the management of the surge in new cases."
Managing infected cases, arranging hospital beds, oxygen and ambulances, setting up isolation facilities and quarantine centres and training health care workers are more important.
"Focusing on the surge management doesn't mean that authorities concerned should give up on preventive measures completely," said Adhikari. "Along with enforcing preventive measures, time has come to focus on the management of surge in new cases."
Public health experts, epidemiologists as well as virologists have been urging the authorities to pay attention to border areas and vaccination. They also say effective contact tracing is key.
There was a need to control crowds, shut down schools and prohibit political gatherings and rallies, as the next surge in cases could start from cluster outbreaks, according to them.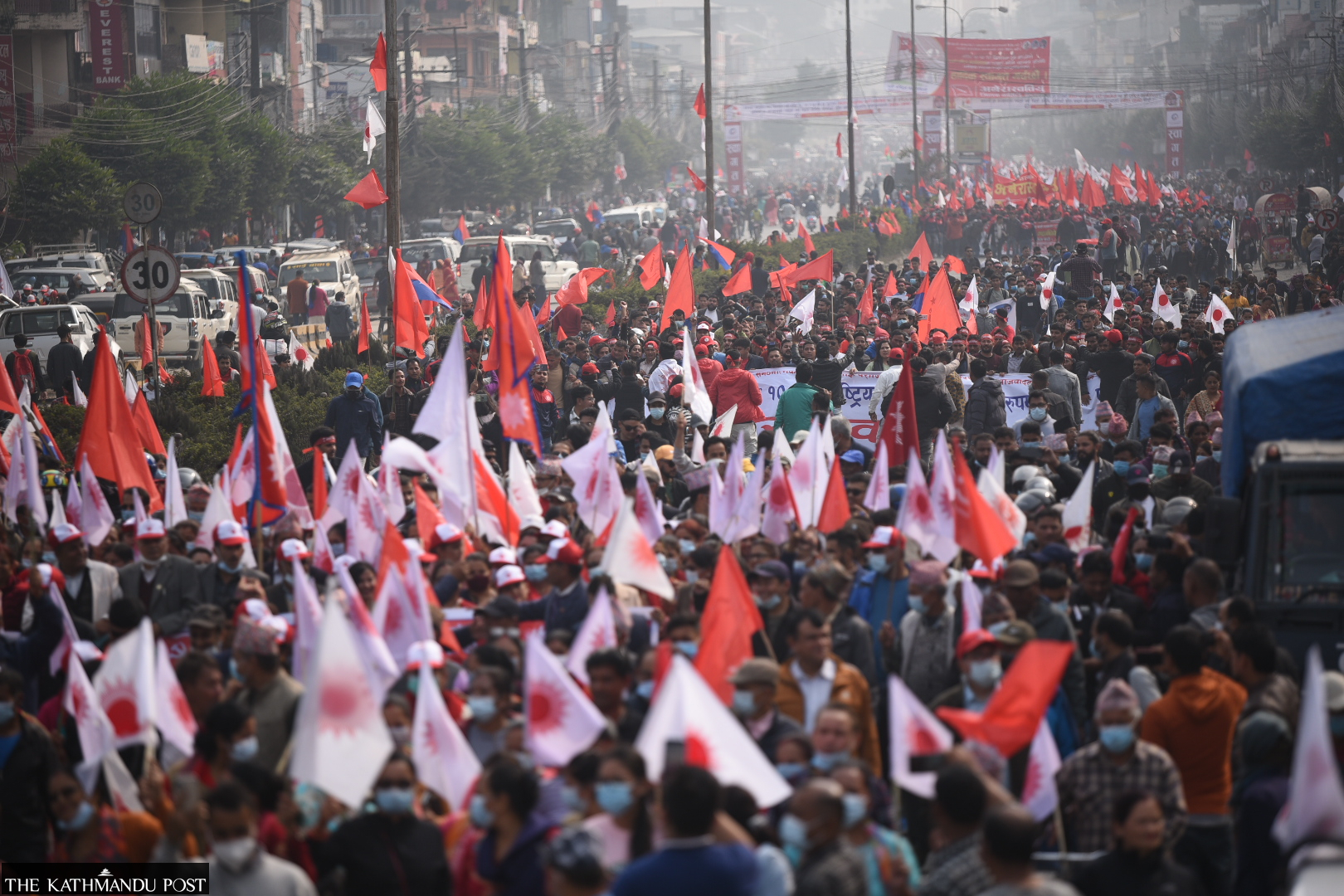 Post File Photo
"None of the agencies concerned heeded the warnings," said Adhikari. "As the new variant of the virus has penetrated the communities, authorities should focus on saving lives and they must make every effort to prevent a massive outbreak."
Officials at the Health Ministry said that coming days will not be easy and infections by the new variant could peak within the next few weeks.
The Department of Health Services said that it has alerted all health agencies throughout the country on the growing risk of the spread of the new variant and the existing Delta variant.
"We are also working on overall preparations including logistics management," said Dr Dipendra Raman Singh, director general at the Department of Health Services.
The Health Ministry has said booster shots will be administered to frontline health workers from the first week of Magh (third week of January).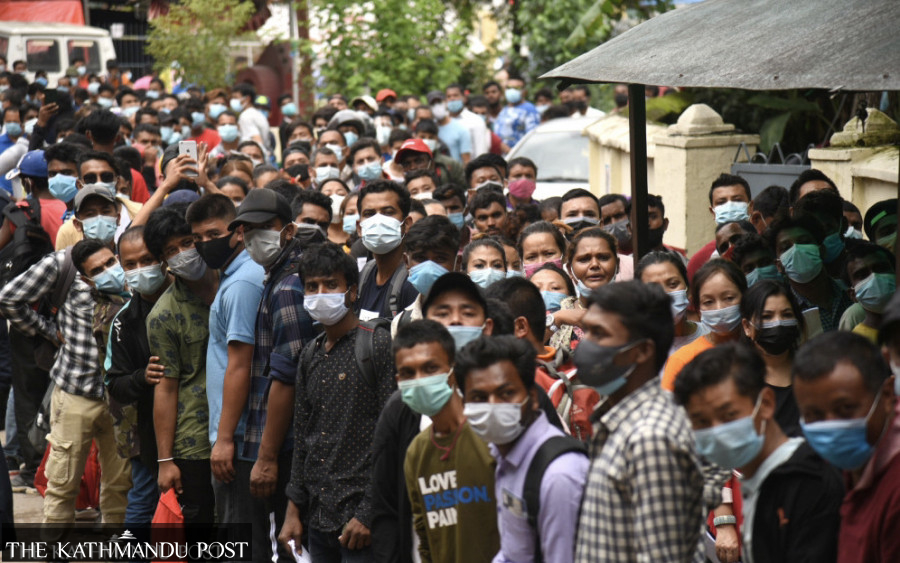 Post File Photo
After the administration of booster shots to the frontline health workers, people over 60 years of age, who were administered with Vero Cell vaccine and those having comorbidities, will be given extended shots.
Authorities plan to roll out Pfizer-BioNTech vaccine for children between 12 and 17 of age in eight districts including those in Kathmandu Valley from Tuesday.
"Along with ramping up vaccination, focus should also be on preventive measures," said Dr Krishna Man Shakya, a public health expert. "Regardless of which variants are circulating, measures to lessen the spread are a must."

Source: https://bit.ly/3HNfmRD