Menuka Dhungana, The Kathmandu Post, January 31, 2022
At 16 years of age, Nabina BK can't read or write. She is one of five daughters in her family of eight members. None of the five sisters have received a formal education although her two brothers are enrolled in a local school.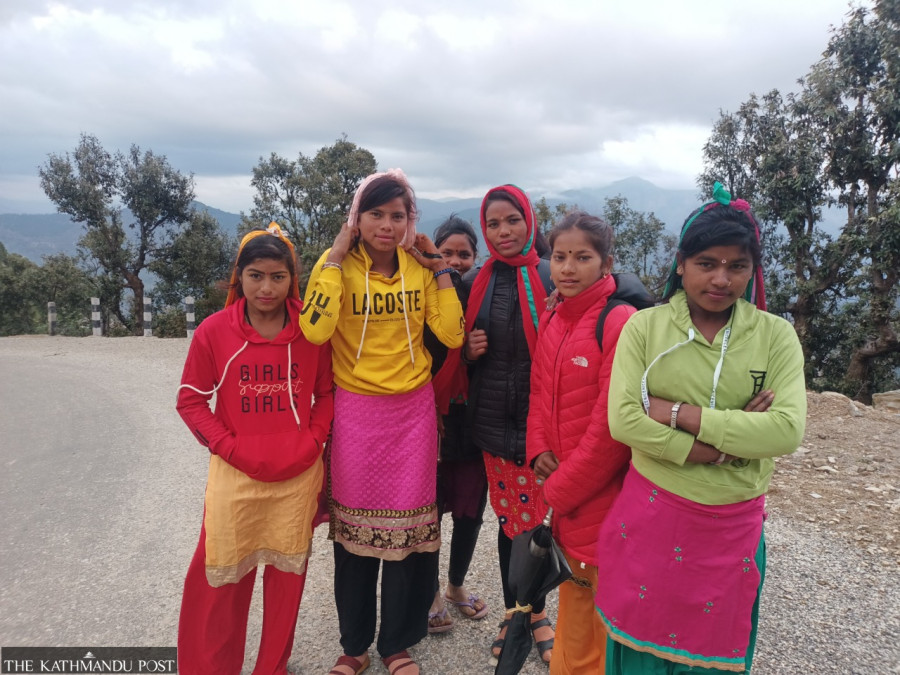 "I can't even write my own name. Our parents did not send us daughters to school since they did not think it necessary for us to have an education," said Nabina, a resident of Pipalgaun. Not being literate did not matter to her when she was younger, she says, but now she finds it difficult to adjust to a society that values education. "Wherever I go, people ask me what grade I'm in. I feel ashamed to tell them I don't attend school, that I don't even recognise the alphabet. None of the girls in Pipalgaun go to school but the boys do."
Pipalgaun is a Dalit settlement in Ward No 7 of Mangalsen Municipality in Achham.
There are more than 30 girls of school-going age in Pipalgaun and none of them are enrolled in a school. The parents choose to send their sons to school and keep the daughters at home to help run the household. Most adults in the village go to seek employment in India and leave the responsibility of running the household to daughters.
Like Nabina, 15-year-old Laxmi BK is illiterate. Her father died when she was seven years old, leaving the family in financial difficulties. "My mother somehow managed to send my two brothers to school after my father died but she did not think it necessary to send me to school," said Laxmi. "My mother had to choose between sending me or my brothers to school. She chose my brothers."
While Laxmi has been deprived of education for a lack of financial means, several other families in Pipalgaun who can afford to educate their daughters choose not to, says Laxmi.
"My mother had financial constraints but there are several girls in my village whose families can afford to enroll them to schools but choose not to. They believe education is wasted on daughters," said Laxmi.
Seventeen-year-old Nirmala BK's parents are in Mumbai, leaving Nirmala at home to take care of the household and a younger brother.
"My days are spent taking care of the house. From cattle grazing to farming, I do everything myself," said Nirmala. "My parents tell me I can't go to school because there is no one else to take care of the house."
According to Siddharaj Dhungana, ward chairperson of Mangalsen Municipality-7, the municipality has been working to raise awareness on the importance of sending girls to school but hasn't been able to do much.
"The school management committee in the ward had earlier run an admission campaign. Teachers and people's representatives went door to door to ask parents to send their daughters to school," said Dhungana. "We managed to get some of the girls into the school system but not all."
According to Dhungana, the local unit plans to introduce classes for adult children to receive basic education. "Most of the girls who don't attend school are in their teens. So it is advisable to run a separate class for them to create a conducive environment for learning," he said.
Source: https://tkpo.st/3KUWbIa