The Himalayan Times, 04 May 2018
Nepal in Data Initiative has launched the beta-version of its geo-profile containing key data of the seven provinces and 753 local bodies.
The geo-profile allows users to select national, provincial and local level data, and also obtain an overview of key data based on a wide range of indicators related to demography, economy, agriculture, industry, health, education, etcetera, as per the statement issued by the initiative.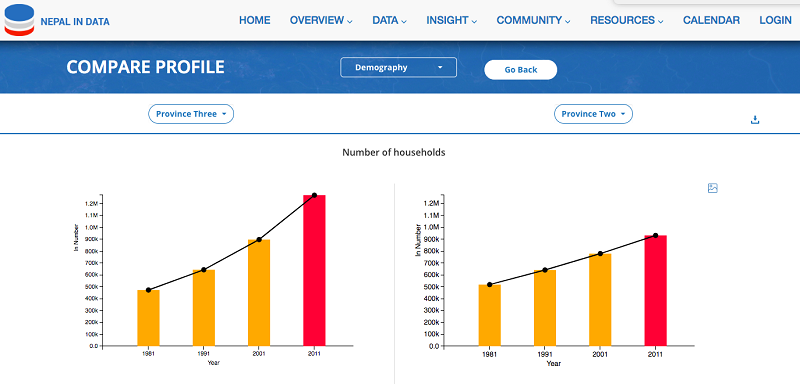 "Users can opt to select specific indicator themselves as well as compare the data of different provinces and municipalities to assess the development scenario."
The data can be visualised in graph and table format to facilitate easy analysis and can be downloaded for use as CSV and JPEG files from the website of the initiative – www.nepalindata.com/data/nepal. Additional features such as a provincial and municipal overview page and more data will be added in the coming weeks.
"Through geo-profile, the initiative aims to support federal, provincial and local governments by making relevant data accessible so they can use it in their planning and decision-making processes," as per developer. "The initiative also hopes data will enable citizens to track local development progress and participate in the processes. With the data, initiative also aims to support media, civil society organisations, development agencies and businesses in their reporting, programming and funding and investment decisions."
For the profile, Nepal in Data has collected and computed using data from various official government data sources such as Central Bureau of Statistics, Nepal Rastra Bank, Ministry of Finance and many more over the last year.
Source: https://thehimalayantimes.com/business/data-of-sub-national-govts-easily-accessible/