The World Bank, 6 March 2018
Zahra is a mother of three from Afghanistan, searching for a new life in Europe. In early 2016, she set out with her two daughters – aged 17 and 14 – and four-year-old son on a courageous journey to Europe, one that she describes as the 'most horrible experience' of her life. Following a trek through Turkey, a ride on an inflatable raft to Greece, and a long walk through the Former Yugoslav Republic of Macedonia, Zahra now finds herself in Serbia.
The days bleed together in her mind and she does not remember how long each leg took. She only remembers walking for days 'through the jungle' – as she describes it – between the Former Yugoslav Republic of Macedonia and Serbia.
"[I'm here] just to keep my children alive and well and to take them to Germany," she says.
Although her plan is to unite her family with her husband there, at present Zahra and her family can go no further.
A decision in March 2016 to end irregular migration from Turkey into the European Union (EU) closed the migration route through the Western Balkans for Zahra and thousands of others like her – making Serbia – the last country before entering the EU - home, at least for now.
As of June 2017 some 5,000 asylum seekers, refugees, and migrants in Serbia remain in legal limbo - with no way forward. Most of these people came from Afghanistan (62%), Iraq (13%), Pakistan (12%) and Syria (5%), but many more people remain unregistered and unaccounted for.
Although more than 90% of these people have been provided accommodations in government-run shelters, their situation remains fluid and unstable. Among them, women and youth - especially unaccompanied minors - represent particularly vulnerable and marginalized groups.
"[I am here] just to keep my children alive and well and take them to Germany."
Zahra
Asylum seeker from Afghanistan
Isolation, uncertainty, daily subsistence struggles, a lack of opportunities to participate in social activities, and other challenges present risks to their well-being.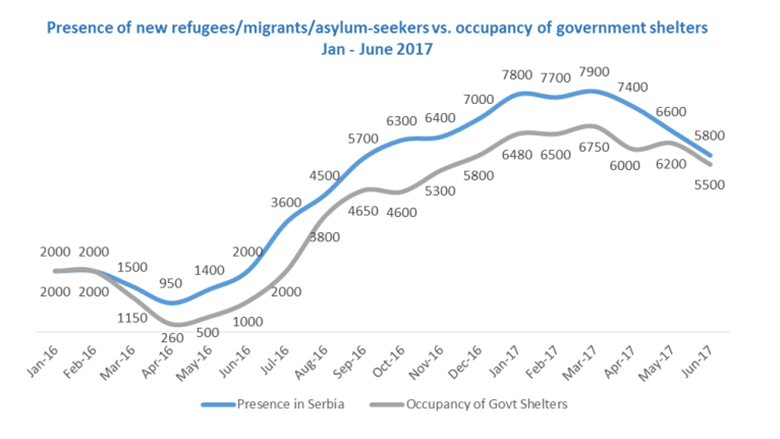 © UNHCR
The World Bank and Forced Displacement
Recognizing that forced displacement is a development challenge, especially in protracted situations, the World Bank is expanding support for the displaced and their host communities, working in complementary ways with humanitarian partners and utilizing country systems where possible. At the end of 2016, there were approximately 22.5 million refugees around the globe. Serbia was host to some 36,500 of them – a ratio of more than 4 refugees for every 1,000 citizens.
Under its mandate to reduce poverty, the World Bank Group (WBG) is concerned about the welfare of the displaced as well as their host communities. Forced displacement causes enormous human suffering, particularly for the extreme poor and vulnerable, including youth, women and children. Economic and social impacts are significant: the displaced have limited social capital and few assets, unable to make plans or find livelihoods, and with poor access to basic services. They are often traumatized, facing considerable uncertainty and at times discrimination. Host communities and countries, some low-income countries themselves, also face challenges such as fiscal shocks and increased demand on services and infrastructure.
The Bank is actively engaged to address this challenge through financing, data and analytics and operations, working with the United Nations Refugee Agency UNHCR and across humanitarian-development partners.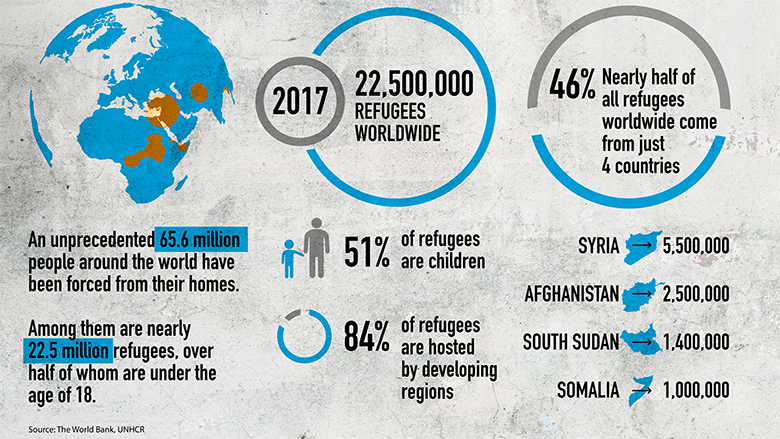 In the long term, the World Bank is doing more to help fragile and conflict affected areas address the drivers of conflict and create more stable societies that provide opportunities for all, so that people will not need to risk their lives and flee in the first place.
During this interim period, the World Bank's Youth Innovation Fund (YIF) has been working with these vulnerable groups to help support them through the Engaging with Female and Youth Asylum Seekers, Migrants and Refugees Passing through Serbia project, implemented by the Serbian non-governmental, non-profit Asylum Protection Center. The YIF is a World Bank fund designed to empower youth and inspire more innovation in projects across all areas where the World Bank works. Founded in 2004, the YIF continues to engage youth as partners to promote innovation, create impact, and leverage resources. The fund is part of the broader Youth to Youth Community.
The Youth Innovation Fund (YIF) provides an opportunity for young WBG staff to channel fresh ideas into designing and implementing development projects around the world. With funding from IBRD's corporate office to empower youth and inspire more innovation in the core of our development projects, grants are given to proposals from across all WBG business lines and countries on a highly competitive basis. Founded in 2004 as one of the flagship programs under the WBG Youth2Youth (Y2Y) Community, the YIF continues engaging youth as partners to promote innovation, create impact, and leverage resources from the new generation of development professionals."
Working exclusively with women and youth, the project focused on four overall objectives: strengthening the dialogue between these individuals and local Serbians; boosting their self-esteem, independence, and social skills; raising regional and global awareness about their challenges; and sensitizing the local and regional community about the struggles they face every day.
This project focused not only on the asylum seekers, refugees, and migrants, but on local Serbians as well - to increase their awareness and connect the two communities. Between February and June 2017, the Center organized more than 30 activities, involving more than 200 asylum seekers, refugees and migrants, and more than 200 Serbian citizens.
This initiative is an example of how the World Bank is supporting countries that host large numbers of displaced people. Support aims to help countries design and implement policies that enable refugees to rebuild their lives with dignity and become economically independent. This will, in turn, help them contribute to host communities – providing a more sustainable way to address this growing crisis.
For video link click here: https://youtu.be/eHcHapPHOzg
Investing in Opportunity
Empowerment workshops were conducted by a trained psychologist, who encouraged participants to open-up, become more confident, reflect on their traditional roles, and address some of the emotional burdens they carry. To address prejudices and social barriers, as well as to counter gender stereotypes, the workshops focused on promoting women's agency and independence through the sharing of experiences – helping them to break free from social, cultural, and traditional norms which may otherwise be hindering them.
Intercultural workshops were also introduced to create a safe space for participants to better understand aspects of local culture, as well as discuss issues and risks that may have arisen during their journey. Women were encouraged to share their cultural past, explore gender roles, study the behavior of local communities, and practice their social skills.
In parallel with these empowerment and intercultural workshops, a series of integration activities were also developed to help promote more inclusiveness into society among the women and children migrants, refugees, and asylum seekers.
These events aimed at establishing first contact between the participants and their local communities, facilitating better communication and interaction by promoting cultural diversity, solidarity, and integration. These events were diverse and included visits to museum exhibitions, involvement in a music festival in Belgrade, involvement in school activities, and field trips.
The project also piloted an innovative "Buddy" program through which local women volunteers assisted women asylum seekers with various activities, such as going to the doctor, buying medicines at the pharmacy, searching for an apartment, and other, daily routines that many of them were unfamiliar with. The Buddy program showed potential for scaling-up in other countries and other projects as a successful tool for community engagement, awareness-raising, and inclusion.
The Power of Art
In addition to these empowerment and inclusion workshops, a series of creative events, exhibitions, and outings were developed under this program to help these vulnerable populations better cope with their difficult circumstances – providing creative outlets for participants and boosting their understanding of their current surroundings.
Workshops were organized to provide women and children with an opportunity to express themselves through arts and crafts, painting and drawing, and practicing beauty routines. These activities allowed participants to share how they feel, and to chat, laugh, and converse with people from the local community.
Outings to the local theater were also organized for children – giving them an opportunity to relax and play; providing them with a sense of comfort; allowing them to be children again.
During the month of Ramadan in 2016, these asylum seekers, refugees, and migrants engaged in the creative arts, along with community members during the "Belgrade crafts Fair." Participants used this opportunity to engage in arts and crafts sessions, share experiences, and talk about their lives and dreams.
One of the most popular activities during this exchange was a demonstration of traditional henna tattooing. The local community was very eager to learn about the cultural beauty routines of the women asylum-seekers. Even men from the local community took part in this activity, creating a sense of joy and inclusion among the asylum seekers, refugees, and migrants.
Another highlight of this interaction with the community was an art exhibition, which was held on May 28th, 2017 in Belgrade. The "Asylum seekers – Waiting for life" exhibitionshowcased photos and documentary videos of women and children asylum seekers living in Serbia in a new light: presenting them as people who have many more similarities than differences with those around them; whose main wishes are peace, a safe home and a future devoid of fear, persecution, and uncertainty.
This event provided all visitors with an insight into the dramatic lives and emotional testimonies of women and children who have fled war, violence, and poverty. The exhibition narrowed the distance between local citizens and asylum seekers in Serbia and enabled a common human experience to break through stereotypes and misconceptions.
"We all want a nice life, an ordinary one - to have toys, a computer, our own room, a warm bed; our mom will cook, we will go to school, play in the park."
Zejneb
A young asylum seeker who, along with her parents and newborn sister, await their next step
More to Be Done
Although this engagement was instrumental in helping many asylum seekers, refugees, and migrants adjust to their current situation and further integrate into their respective communities, it is clear that much more needs to be done in order to help these vulnerable groups.
Success from this project should be replicated and built upon, said a group of participants from the Serbian government, local and international NGOs, and experts from the World Bank at the last project event in June, 2017.
While the future of these asylum seekers, refugees, and migrants may remain uncertain, their role and participation in their communities while they wait does not need to be.By simultaneously fostering increased understanding among these vulnerable groups of their communities and raising awareness among their local neighbors, initiatives like this are boosting inclusion and helping people feel at home, if only for a little while.
Source: www.worldbank.org/en/news/immersive-story/2018/03/06/hope-and-inclusion-investing-in-stranded-refugees-in-serbia?cid=ECR_FB_worldbank_EN_EXT