Sangam Prasain, The Kathmandu Post, September 26, 2019
This marks an economic growth projection of over 6 percent for four consecutive fiscal years, but it is way below the target set by the government.
Nepal's economy is expected to mark a growth rate of 6.3 percent in the current financial year despite poor performance in the agriculture sector caused by late paddy transplantation, the Asian Development Bank said on Wednesday.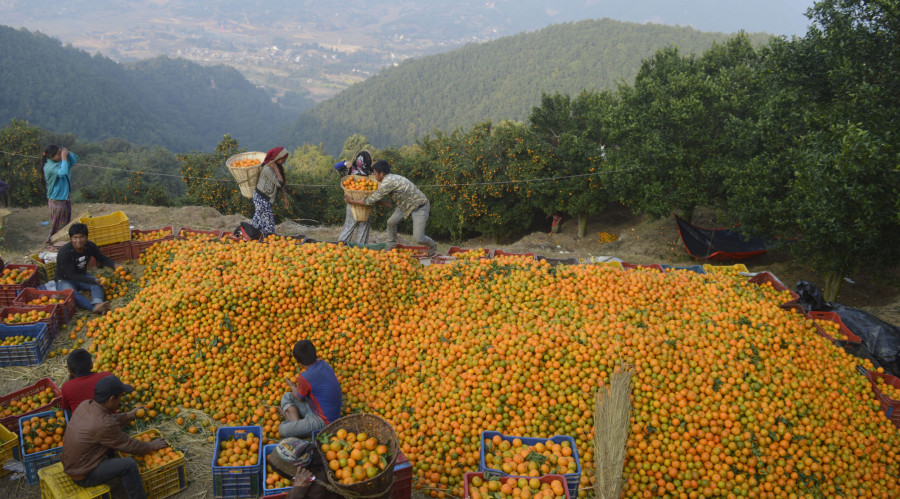 This marks an economic growth projection of over 6 percent for four consecutive fiscal years. The growth forecast, however, is way below the government's target of 8.5 percent.
Economist Raghubir Bista said that the ADB forecast seems mainly driven by the growth in energy supply and the government's policy that included the service sector and informal sector into the tax net, which could increase government revenue. Another contributing factor is the government's increasing investment in infrastructure. "But the growth rate is well below the government's target."
Nearly 1,150 MW of energy is expected to be added to the national grid this fiscal year. Similarly, the country's second international airport in Bhairahawa is expected to be completed within a few months and the announcement of Visit Nepal 2020 campaign is expected to revitalise the service sector, according to economists.
The Manila-based development bank said that the gross domestic product (GDP) expansion in the fiscal year 2018-19 that ended July 16 exceeded the Asian Development Outlook 2019 forecast achieving a growth rate of 7.1 percent, with growth in all sectors. Agriculture grew by 5 percent on a favourable monsoon that brought a record 8.3 percent increase in paddy production.
Industry advanced by 8.1 percent on increased electricity production, accelerated earthquake reconstruction, and strong consumer demand. Services grew at 7.3 percent as higher remittances supported retail trade and as higher tourist arrivals favoured hotels and restaurants.
On the demand side, growth in private consumption markedly accelerated in the last fiscal year on higher remittances and agricultural income, contributing to two-thirds of GDP expansion. Fixed investment moderated from a year earlier.
Private investment spending, mostly in energy and services, grew by 27 percent to account for 29 percent of the GDP. Public investment increased by 5.5 percent from the high level achieved in the previous fiscal year, but the construction of national pride projects suffered delays, the bank said.
However, floods in early July 2019 delayed paddy planting, which probably means lower growth in agriculture this fiscal year, but an increase by almost half in the current budget for capital expenditure promises to offset that shortfall if realised in actual spending, the multilateral funding agency said in its latest report.
Inflation slightly exceeded the 2018-19 projection as food inflation accelerated from 2.8 percent in the fiscal year 2017-2018 to 3.1 percent on account of flooding and landslides in July that affected some supply channels and a delay in food supply owing to strict tests along the India-Nepal border over concern about pesticides.
Inflation will likely rise in the current fiscal year, assuming a somewhat smaller harvest, a marked pickup in government expenditure, and a moderate rise in inflation in India—the main supplier.
The current account deficit, forecast to widen, narrowed substantially instead as implementing large national pride projects experienced delays and markedly curbed import growth. Export growth exceeded expectations but earnings remained small, allowing the trade deficit to widen by 4.6 percent, the report said.
Growth in workers' remittances was at 7.7 percent, sufficient to keep the current account deficit stable at $2.3 billion. With financing inflows somewhat down from a year earlier, foreign exchange reserves fell by 5.8 percent to $9.5 billion, the second year of decline nevertheless leaving import cover for 7.8 months.
The current account deficit is now forecast to be much narrower than projected in the last fiscal year as it continues to shrink in response to measures that curtail imports of low-priority goods, as well as higher hydroelectricity production, which will replace fuel imports for generators, and more workers going to high-income destinations like Japan, the report said.
Source: https://kathmandupost.com/money/2019/09/26/nepal-s-economy-may-grow-above-6-percent-this-fiscal-year-adb-says