My Republica, 25 April 2018
The devastating Gorkha-centered earthquake was three years ago, but the plight of many of the victims has remained largely unchanged. The government's rescue, relief and reconstruction work has done little to ease the plight of these victims in various districts.
Some of the victims in Dhading district are still living under tarpaulins. And their plight has been aggravated by inclement weather.
"We are still living under tarps and our hopes in the government are fading," said Buddhi Singh Tamang, a local of Richet in Dhadingbesi.
Victims in Lapa of Rubi Valley Rural Municipality, Sertung, Lipting and Jharlang of Khaniyabas in Rural Municipality, Dharka and Ri of Gangajamuna Rural Municipality and other local units have not seen much improvement in their condition.
Many of them have set up camp around district headquarters Dhadingbesi after being displaced. Time has not healed their wounds .
Some of the affected families have received only the Rs 50,000 first tranche quake grant. A majority of them have taken out loans to purchase land for rebuilding while some have used the loans to upgrade their existing makeshift tents.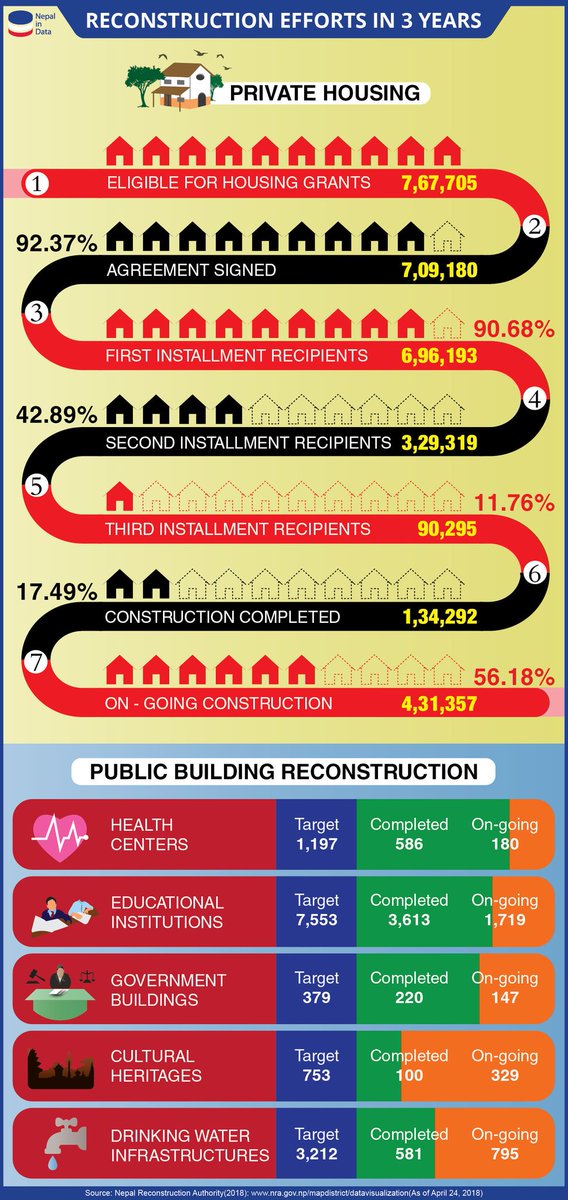 Likewise, dozens of families in Bhaktapur are also living under makeshift tents. Families in Dekocha, Chamhasingh, Liwali, Kamal Binayak, Indrayani, Garudkundal, Bhimsensthan, Barahi and many other places in the district are also still living under tarps and tents.
They are forced to live under such harsh conditions due to several reasons. Lack of lands lack of money to rebuild, land disputes, lack of human resources and other factors are the main obstacles.
Ram Laxmi Nyamhafuki of Bhaktapur said increase in cost of construction materials prevented him from rebuilding his house. "There is no help from anywhere. We are condemned to continue living in such difficulties."
Another district, Rasuwa, was also one of the most affected in the 7.8 magnitude quake. This district is making progress in reconstruction work although the plight of some victims has remained unchanged here also .
Eighty three percent of the beneficiaries of housing reconstruction grants have received the second tranche while 37 percent have already been recommended for the third tranche after fulfilling the required procedures.
The reconstruction of quake-damaged government buildings in the district has also gathered pace. About half a dozen such buildings were damaged by the quake.